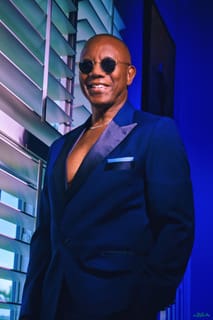 Smooth Jazz Recording Artist
Johnny James, professionally known as Dr. J, is a smooth jazz saxophonist, flutist, vocalist, arranger, producer, recording artist, and actor who loves the life he lives and lives the life he loves. For 40 years – and counting - Dr. J has recorded and performed nationally and internationally.
In August 2023, Dr. J dropped his latest recording, a five-track EP featuring the single How Deep is Your Love. The recording - with its three mixes - features the late guitar legend Chuck Loeb, along with jazz fusion keyboard legend Jeff Lorber and vocal extraordinaire Darryl Tookes. The storied Bee Gees originally recorded the beautiful pop ballad in 1977.
Dr. J's new EP also includes a re-release of his hot 2021 single Slippin' (Nigel Lowis Stepper's Mix), a composition that went No.1 on Jazz Juice Radio in the United Kingdom in the latter months of 2021, was a Top 10 in Canada, and Top 100 in the United States. For much of the summer of 2021, Slippin' and another Dr. J's single, Your Love, were among the most requested songs on such U.K. radio outlets and programs as London Soul Radio, It's a Soul Thing with Alan Irvine, and The Network Soul. Dr. J's new EP is rounded out by his originally-penned instrumental composition Jizay.
In 2022, Dr. J scored big with the single Foolish Heart, originally recorded by Steve Perry in 1984. On Dr. J's version, the super talents of Paul Brown, Norman Brown, and Greg Phillinganes are added to help the song peak at No. 7 on the Radio Indie Alliances Top 20 Chart, No. 8 on The U.K. Soul Chart Top 30, and currently enjoying success on Spotify (130 - plus K streams) and YouTube (140-plus K views).
In addition to his many recordings, the music veteran has performed for audiences across the globe. Dr. J lived in Singapore (Asia) for many years, leading epic bands playing top songs by American artists. He has performed at the Singapore Jazz Festival, the Esplanade Theatres on the Bay (National Performing Arts Centre), and The Singapore Grand Prix. Dr. J regularly performed at Singapore's prestigious corporate events, including Tiffany and Cartier.
Dr. J has played command performances for the U.S. Ambassador to Singapore and several Royal families across Asia. He made his modeling debut in Singapore, followed by his acting debut in the award-winning stage play, Take Me Out. Dr. J played the role of Davey Battle in the baseball-themed production. And the entertainer has showcased his musical talents to audiences in other international locales, including South Africa, Mexico, and the Bahamas. In the United States, he has performed musically at major corporate events in Washington, D.C., Las Vegas, Hawaii, and the U.S. Virgin Islands, to name a few. After living in Montreal, Canada, Dr. J returned to America in 2017.
Born and raised in Tallahassee, Florida, Johnny James (Dr. J) attended Florida A&M University, where he played saxophone in the school's iconic "Marching 100," often called "The World's Greatest and Most Imitated Marching Band." He also played in the University's concert, symphonic, and jazz bands. After graduating with a bachelor's degree in music, Dr. J performed with the Miami-based band Will To Power. The pop-dance band, signed to Epic Records in the late-1980s, released such top hits as Baby I Love Your Way/ Free Bird Medley, Dreamin', Say It's Gonna Rain, and Fading Away. As a solo artist, Dr. J has released two CDs: The Remedy (2000) and The Cure (2009).
For more information on Johnny James Dr. J, log on to www.johnny-james.com or follow him on Facebook and Instagram. For media inquiries, contact Don W. Saint-James at
(310) 497-9566 or [email protected].
As Johnny James "Dr. J" reflects on a successful and exciting career, he cannot help but feel incredibly fortunate to have been able to share his love and passion for music with audiences around the world.
"I'm excited to see my music being appreciated on international levels," James said. "I'm the kind of person that likes to focus on things that unite us as opposed to what divides us. I've come to realize that despite the many cultures around the world, we are all more alike than we think. Music is the common denominator to bringing people around the globe together".
Johnny James "Dr. J" exemplifies the idea that music is a common denominator among people and he has proven so time and time again as his music continues to captivate the imagination of his audiences around the globe.